As I cleaned up the apartment on Conference weekend I came across the goals Kortney and I set for the year. I had been trying to find them to remember what goals we had set for ourselves and so I was very happy to find them. We decided for 2011 that we would set 11 goals. We found that we are well on our way to some and were happy to remember and rededicate ourselves to the rest.
1. Visit six capitols.
This is a bite-size chunk of our overall goal to visit all 50 state capitols eventually. We visited six last year (Jefferson City, MO; Springfield, IL; Topeka, KS; Denver, CO; Salt Lake City, UT; and Frankfort, KY) and figured that that was a pretty solid pace. So far this year we have been to two.
Boise, Idaho and Cheyenne, Wyoming. Thanks to the Moyers in Boise and the Thomas' in CO who helped make those trips possible!
2. End the year with absolutely no debt.
One of those grown-up goals. With Kortney's good job and the possibility I have of getting paid work after my externship with Franchise Foundry, this shouldn't be a problem.
3. Watch a season of 24 in 24 hours.
This is something I have always wanted to do. And with all the seasons of 24 coming to Netflix instant play, it is more possible than ever. At the beginning of the year there were only two seasons of 24 I hadn't seen. Season 6 and Season 7. Kortney had never seen an episode. We figured we could leisurely watch Season 6 together and then set a day when we would watch Season 7 in real time. The idea is that we would start the season at the same time the day starts (8am for season 7) and then end at the same time. Pausing during commercial breaks to let time catch up and starting again once the real time matched the time on the 24 clock. We have only two episodes left of season 6 so we only have 24:Redemption left to watch before our 24 day is upon us.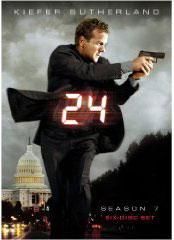 4. Visit a National Park

The only National Park I've ever been to is Yellowstone. I've lived in Utah for over a decade and haven't been to Zion's, Arches, Canyonlands, Capitol Reef, OR Bryce's. I wanted to set the goal at three national parks so that we could really take a chunk out of that horrid underappreciation of Utah's natural beauty, but Kortney talked me down to one. We may see Hot Springs, AR, in May (America's first national Park), or Yellowstone this summer, or one of Utah's. Either way, this one is a must.
5. Start our State Scrapbook and finish at least three states.
Kortney comes from a long line of accomplished scrapbookers and has wanted to chronicle our adventures in that medium. We decided a fun way to tell our story would be to have a section for each state and so instead of seeing what we have done in chronological order, we would instead have a Chapter for each time we have been through a state, full of pictures, mementos, souvenirs, etc. But, it won't happen if we don't get started, so this year, we begin. So far we have been to 16 states, so, we've got work to do.
6. Read the Book of Mormon

Though we both have read this book of scripture, we have never read it together. That's on the docket for this year. So far, we are in Mosiah.
7. Go hanggliding
This is something we have talked about doing since we were dating and have never done. We were going to go as a graduation present to me last April but the weather didn't permit. The point of the mountain is world reknown for its wind conditions and we would be remiss not to take advantage of this while we live so close.
8. Run in some kind of a race
We originally registered for the Red Rock Relay last year but had to drop out due to scheduling conflicts with Humor U. This year, we would like to complete some kind of a race and see how that goes.
9. Improve Sundays
With our busy schedules it is easy to let certain important but non-urgent things slip between the cracks and this is most often the case with spiritual things. We figured we could start the process of improving ourselves by improving our use of Sundays as days of spiritual growth. This was a goal we had forgotten about until we found the list....so...we'll let you know how that goes from here.
10. Watch all the movies in the Disney Animated Canon.
There are 50. From Snow White to Tangled. We have a trip planned at the end of the year to go to DisneyWorld and we hope to finish this by then. The last one we watched was Sleeping Beauty (15) and the next will be 101 Dalmatians (16)
11.Throw an awesome President's Day Party.
Done and Done! See the
post
about it for pictures and a beautiful poem describing the event.